"Reopening of the hotel restaurant on Monday 1st April" Book your stay for the spring holidays right now! Come enjoy a quiet break near the river and enjoy the first rays of sun at the heart of the Gorges du Tarn. You will enjoy authentic and local homemade cuisine.
Live booking by 04 66 48 53 08 or emailLive booking by phone best price guaranteed! Take a break in June before the crowd to enjoy the tranquility of our hostel! Terrace view river. Home-made local cuisine; Do not forget to book your summer holidays in the heart of the Gorges du Tarn. Change of scenery and relaxation assured; Rooms with private terrace. In the restaurant you will taste under the arbor, our homemade cured meats, our summer dishes, our fresh crawfish etc ….. See you soon at L'AUBERGE! SOPHIE & DIDIER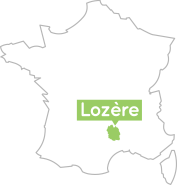 Discover breathtaking landscapes in the Gorges du Tarn and on the Grands Causses!
Nested at the bottom of the canyon, by the green waters of the Tarn, is Sainte-Énimie, ranked amongst The Most Beautiful Villages of France. At the Auberge du Moulin, a building entirely made of local stone, you'll enjoy the quietness of the surrounding wilds and the quaintness of a medieval village's narrow alleys and antique houses. Take a moment to live… Our bedrooms overlook the Tarn and the hotel's garden.
Either on the shady terrace or near the fireplace, you'll like our authentically home-made local cuisine.
We have a room for person with reduced mobility
René and Marie Couderc bought the building in 1974. Back then, René was a miller in Sainte-Énimie. In the late 70s, they passed the house to their daughter Pierrette and her husband Denis Carminati, who decided to make it a restaurant and, later, a hotel. The Auberge du Moulin ("The Mill's Inn") was born! The inn has been managed by the same family since 1976. Sophie and Didier, who represent the third generation, welcome you today with simplicity and conviviality.
Our partners :